Structural Shapes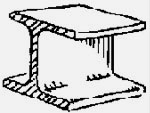 Wide Flange Beam
W-Shapes
ASTMA-36
Designation Depth
in inches x weight Per Ft. Lbs
Weight Per Ft.
(Lbs.)
Depth
Section
(inches)
Width
Flange (inches)
Flange
Thickness
(average,
inches)
Web
Thickness
(inches)
Area of Section
(inches2)
Section Modulus
Sx In.3
**Surface Area
Foot of
Length2
W4 x
(4x4)
13
*4-1/8
4
3/8
1/4
3.83
5.46
1.96
W5 x
(5X5)
16
5
5
3/8
1/4
4.68
8.51
2.42
19
5-1/8
5
7/16
1/4
5.54
10.20
2.45
W6 x
(6x4)
9
5-7/8
4
3/16
3/16
2.68
5.56
2.23
12
6
4
1/4
1/4
3.55
7.31
2.26
16
6-1/4
4
3/8
1/4
4.74
10.20
2.31
W6 x
(6x6)
15
6
6
1/4
1/4
4.43
9.72
2.29
20
6-1/4
6
3/8
1/4
5.87
13.40
2.96
25
6-3/8
6-1/8
7/16
5/16
7.34
16.70
3.00
W8 x
(8x4)
10
7-7/8
4
3/16
3/16
2.96
7.81
2.56
13
8
4
1/4
1/4
3.84
9.91
2.58
15
8-1/8
4
5/16
1/4
4.44
11.80
2.61
W8 x
(8x5-1/4)
18
8-1/8
5-1/4
5/16
1/4
5.26
15.20
3.03
21
8-1/4
5-1/4
3/8
1/4
6.16
18.20
3.05
W8 x
(8x2-1/2)
24
7-7/8
6-1/2
3/8
1/4
7.08
20.90
3.39
28
8
6-1/2
7/16
5/16
8.25
24.30
3.42
W8 x
(8x8)
31
8
8
7/16
5/16
9.13
27.50
3.89
35
8-1/8
8
1/2
5/16
10.30
21.20
3.92
40
8-1/4
8-1/8
9/16
3/8
11.70
35.50
3.95
48
8-1/2
8-1/8
11/16
3/8
14.10
43.30
4.00
58
8-3/4
8-1/4
13/16
1/2
17.10
52.00
4.06
67
9
8-1/4
15/16
9/16
19.70
60.40
4.11
W10 x
(10x4)
12
9-7/8
4
3/16
3/16
3.54
10.90
2.89
15
10
4
1/4
1/4
4.41
13.80
2.92
17
10-1/8
4
5/16
1/4
4.99
16.20
2.94
19
10-1/4
4
3/8
1/4
5.62
18.80
2.96
W10 x
(10x5-3/4)
22
10-1/8
5-3/4
3/8
1/4
6.49
23.20
3.53
26
10-3/8
5-3/4
7/16
1/4
7.61
27.90
3.56
30
10-1/2
5-3/4
1/2
5/16
8.84
32.40
3.59
W10 x
(10x8)
33
9-3/4
8
7/16
5/16
9.71
35.00
4.16
39
9-7/8
8
1/2
5/16
11.50
42.10
4.19
45
10-1/8
8
5/8
3/8
13.30
49.10
4.23
W10 x
(10x10)
49
10
10
9/16
5/16
14.40
54.60
4.87
54
10-1/8
10
5/8
3/8
13.30
49.10
4.23
60
10-1/4
10-1/8
11/16
7/16
17.60
66.70
4.92
68
10-3/8
10-1/8
3/4
1/2
20.00
75.70
4.96
77
10-5/8
10-1/4
7/8
1/2
22.60
85.90
5.00
88
10-7/8
10-1/4
1
5/8
25.90
98.50
5.06
100
11-1/8
10-3/8
1-1/8
11/16
29.40
112.00
5.11
112
11-3/8
10-3/8
1-1/4
3/4
32.90
126.00
5.17
W12 x
(12x4)
14
11-7/8
4
1/4
3/16
4.16
14.90
3.23
16
12
4
1/4
1/4
4.71
17.10
3.25
19
12-1/8
4
3/8
1/4
5.57
21.30
3.28
22
12-1/4
4
7/16
1/4
6.48
25.40
3.31
W12x
(12x6-1/2)
26
*12-1/4
6-1/2
3/8
1/4
7.65
33.40
4.12
30
12-3/8
6-1/2
7/16
1/4
8.79
38.60
4.14
35
12-1/2
6-1/2
1/2
5/16
10.30
45.60
4.18
W12 x
(12x8)
40
12
8
1/2
5/16
11.80
51.90
4.52
45
12
8
9/16
5/16
13.20
58.10
4.55
50
12-1/4
8-1/8
5/8
3/8
14.70
64.70
4.58
W12 x
(12x10)
53
12
10
9/16
3/8
15.60
70.60
5.20
58
12-1/4
10
5/8
3/8
17.00
78.00
5.22
W12 x
(12x12)
65
12-1/8
12
5/8
3/8
19.10
87.90
5.87
72
12-1/4
12
11/16
7/16
21.10
97.40
5.90
79
12-3/8
12-1/8
3/4
1/2
23.20
107.00
5.93
87
12-1/2
12-1/8
13/16
1/2
25.60
118.00
5.96
96
12-3/4
12-1/8
7/8
9/16
28.20
131.00
5.99
106
12-7/8
12-1/4
1
5/8
31.20
145.00
6.03
120
13-1/8
12-3/8
1-1/8
11/16
35.30
163.00
6.09
136
13-3/8
12-3/8
1-1/4
13/16
39.90
186.00
6.15
152
13-3/4
12-1/2
1-3/8
7/8
44.70
209.00
6.21
170
14
12-5/8
1-9/16
15/16
50.00
235.00
6.28
190
14-3/8
12-5/8
1-3/4
1-1/16
55.80
263.00
6.36
W14 x
(14x5)
22
13-3/4
5
5/16
1/4
6.49
29.00
3.86
26
13-7/8
5
7/16
1/4
7.69
35.30
3.89
W14 x
(14x6-3/4)
30
13-7/8
6-3/4
3/8
1/4
8.85
42.00
4.45
34
14
6-3/4
7/16
5/16
10.00
48.60
4.47
38
14-1/8
6-3/4
1/2
5/16
11.20
54.60
4.50
W14 x
(14x8)
43
13-5/8
8
1/2
5/16
12.60
62.70
4.81
48
13-3/4
8
5/8
5/16
14.10
70.30
4.83
53
13-7/8
8
11/16
3/8
15.60
77.80
4.86
61
13-7/8
10
5/8
3/8
17.90
92.20
5.50
68
14
10
3/4
7/16
20.00
103.00
5.53
74
14-1/8
10-1/8
13/16
7/16
21.80
112.00
5.56
82
14-1/4
10-1/8
7/8
1/2
24.10
123.00
5.59
W14 x
(14x14-1/2)
90
14
14-1/2
11/16
7/16
26.50
143.00
7.02
99
14-1/8
14-5/8
3/4
1/2
29.10
157.00
7.05
109
14-3/8
14-5/8
7/8
1/2
32.00
173.00
7.08
120
14-1/2
14-5/8
15/16
9/16
35.30
190.00
7.12
132
14-5/8
14-3/4
1
5/8
38.80
209.00
7.16
W14 x
(14x16)
145
14-3/4
15-1/2
1-1/16
11/16
42.70
232.00
7.43
159
15
15-5/8
1-3/16
3/4
46.70
254.00
7.48
176
15-1/4
15-5/8
1-5/16
13/16
51.80
281.00
7.53
193
15-1/2
15-3/4
1-7/16
7/8
56.80
310.00
7.58
211
15-3/4
15-3/4
1-9/16
1
62.00
338.00
7.64
233
16
15-7/8
1-3/4
1-1/16
68.50
375.00
7.71
257
16-3/8
16
1-7/8
1-3/16
75.60
415.00
7.78
283
16-3/4
16-1/8
2-1/16
1-5/16
83.30
459.00
7.86
311
17-1/8
16-1/4
2-1/4
1-7/16
91.40
506.00
7.94
342
*17-1/2
16-3/8
2-1/2
1-9/16
101.00
559.00
8.03
370
17-7/8
16-1/2
2-11/16
1-5/8
109.00
607.00
8.12
398
18-1/4
16-5/8
2-7/8
1-3/4
117.00
656.00
8.20
426
18-5/8
16-3/4
3-1/16
1-7/8
125.00
707.00
8.28
455
19
16-7/8
3-3/16
2
134.00
756.00
8.36
500
19-5/8
17
3-1/2
2-3/16
147.00
838.00
8.49
550
20-1/4
17-1/4
3-13/16
2-3/8
162.00
931.00
8.62
605
20-7/8
17-3/8
4-3/16
2-5/8
178.00
1040.00
8.77
665
21-5/8
17-5/8
4-1/2
2-13/16
196.00
1150.00
8.93
730
22-3/8
17-7/8
4-15/16
3-1/16
215.00
1280.00
9.10
W16 x
(16x5-1/2)
26
15-3/4
5-1/2
3/8
1/4
7.68
38.40
4.35
31
15-7/8
5-1/2
7/16
1/4
9.12
47.20
4.39
W16 x
(16x7)
36
15-7/8
7
7/16
5/16
10.60
56.50
4.87
40
16
7
1/2
5/16
11.80
64.70
4.89
45
16-1/8
7
9/16
3/8
13.30
72.70
4.92
50
16-1/4
7-1/8
5/8
3/8
14.70
81.00
4.95
57
16-3/8
7-1/8
11/16
7/16
16.80
92.20
4.98
W16 x
(16x10-1/4)
67
16-3/8
10-1/4
11/16
3/8
19.70
117.00
6.01
77
16-1/2
10-1/4
3/4
7/16
22.60
134.00
6.05
89
16-3/4
10-3/8
7/8
1/2
26.20
155.00
6.10
100
17
10-3/8
1
9/16
29.40
175.00
6.15
W18 x
(18x6)
35
17-3/4
6
7/16
5/16
10.30
57.60
4.84
40
17-7/8
6
1/2
5/16
11.80
68.40
4.88
46
18
6
5/8
3/8
13.50
78.80
4.91
W18 x
(18x7-1/2)
50
18
7-1/2
9/16
3/8
14.70
88.90
5.38
55
18-1/8
7-1/2
5/8
3/8
16.20
98.30
5.41
60
18-1/4
7-1/2
11/16
7/16
17.60
108.00
5.43
65
18-3/8
7-5/8
3/4
7/16
19.10
117.00
5.46
71
18-1/2
7-5/8
13/16
1/2
20.80
127.00
5.48
W18 x
(18x11)
76
18-1/4
11
11/16
7/16
22.30
146.00
6.59
86
18-3/8
11-1/8
3/4
1/2
25.30
166.00
6.62
97
18-5/8
11-1/8
7/8
9/16
28.50
188.00
6.67
106
18-3/4
11-1/4
15/16
9/16
31.10
204.00
6.70
119
19
11-1/4
1-1/16
5/8
35.10
231.00
6.75
W21 x
(21x6-1/2)
44
20-5/8
6-1/2
7/16
3/8
13.00
81.60
5.48
50
20-7/8
6-1/2
9/16
3/8
14.70
94.50
5.51
57
21
6-1/2
5/8
3/8
16.70
111.00
5.56
W21 x
(21x8-1/4)
62
21
8-1/4
5/8
3/8
18.30
127.00
6.11
68
21-1/8
8-1/4
11/16
7/16
20.00
140.00
6.14
73
21-1/4
8-1/4
3/4
7/16
21.50
151.00
6.16
83
21-3/8
8-3/8
13/16
1/2
24.30
171.00
6.20
93
21-5/8
8-3/8
15/16
9/16
27.30
192.00
6.24
W21 x
(21x12-1/4)
101
21-3/8
12-1/4
13/16
1/2
29.80
227.00
7.50
111
21-1/2
12-3/8
7/8
9/16
32.70
249.00
7.54
122
21-5/8
12-3/8
15/16
5/8
35.90
273.00
7.57
132
21-7/8
12-1/2
1-1/16
5/8
38.80
295.00
7.61
147
22
12-1/2
1-1/8
3/4
43.20
329.00
7.66
W24 x
(24x7)
55
*23-5/8
7
1/2
3/8
16.20
114.00
6.13
62
23-3/4
7
9/16
7/16
18.20
131.00
6.16
W24 x
(24x9)
68
23-3/4
9
9/16
7/16
20.10
154.00
6.80
76
23-7/8
9
11/16
7/16
22.40
176.00
6.84
84
24-1/8
9
3/4
1/2
24.70
196.00
6.87
94
24-1/4
9-1/8
7/8
1/2
27.70
222.00
6.97
W24 x
(24x12-3/4)
104
24
12-3/4
3/4
1/2
30.60
258.00
8.11
117
24-1/4
12-3/4
7/8
9/16
34.40
291.00
8.15
131
24-1/2
12-7/8
15/16
5/8
38.50
329.00
8.19
146
24-3/4
12-7/8
1-1/16
5/8
43.00
371.00
8.24
162
25
13
1-1/4
11/16
47.70
414.00
8.30
W27 x
(27x10)
84
26-3/4
10
5/8
7/16
24.80
213.00
7.61
94
26-7/8
10
3/4
1/2
27.70
243.00
7.65
102
27-1/8
10
13/16
1/2
30.00
267.00
7.68
114
27-1/4
10-1/8
15/16
9/16
33.50
299.00
7.72
W27 x
(27x14)
146
27-3/8
14
1
5/8
42.90
411.00
9.03
161
27-5/8
14
1-1/16
11/16
47.40
455.00
9.08
178
27-3/4
14-1/8
1-3/16
3/4
52.30
502.00
9.12
W30 x
(30x10-1/2)
99
29-5/8
10-1/2
11/16
1/2
29.10
269.00
8.25
108
29-7/8
10-1/2
3/4
9/16
31.70
299.00
8.28
116
30
10-1/2
7/8
9/16
34.20
329.00
8.31
124
30-1/8
10-1/2
15/16
9/16
36.50
355.00
8.34
132
30-1/4
10-1/2
1
5/8
38.90
380.00
8.37
W30 x
(30x15)
173
30-1/2
15
1-1/16
5/8
50.80
539.00
9.87
191
30-5/8
15
1-3/16
11/16
56.10
598.00
9.92
211
31
15-1/8
1-5/16
3/4
62.00
663.00
9.97
W33 x
(33x11-1/2)
118
32-7/8
11-1/2
3/4
9/16
34.70
359.00
9.11
130
33-1/8
11-1/2
7/8
9/16
38.30
406.00
9.15
141
33-1/4
11-1/2
15/16
5/8
41.60
448.00
9.19
152
33-1/2
11-5/8
1-1/16
5/8
44.70
487.00
9.23
W33 x
(33x15-3/4)
201
33-5/8
15-3/4
1-1/8
11/16
59.10
684.00
10.64
221
33-7/8
15-3/4
1-1/4
3/4
65.00
757.00
10.69
241
34-1/8
15-7/8
1-3/8
13/16
70.90
829.00
10.74
W36 x
(36x12)
135
35-1/2
12
13/16
5/8
39.70
439.00
9.70
150
35-7/8
12
15/16
5/8
44.20
504.00
9.76
160
36
12
1
5/8
47.00
542.00
9.79
170
36-1/8
12
1-1/8
11/16
50.00
580.00
9.82
182
36-3/8
12-1/8
1-3/16
3/4
53.60
623.00
9.85
194
36-1/2
12-1/8
1-1/4
3/4
57.00
664.00
9.89
210
36-3/4
12-1/8
1-3/8
13/16
61.80
719.00
9.93
W36 x
(36x16-1/2)
230
35-7/8
16-1/2
1-1/4
3/4
67.60
837.00
11.21
245
36-1/8
16-1/2
1-3/8
13/16
72.10
895.00
11.25
260
36-1/4
16-1/2
1-7/16
13/16
76.50
953.00
11.28
280
36-1/2
16-5/8
1-9/16
7/8
82.40
1030.00
11.33
300
36-3/4
16-5/8
1-11/16
15/16
88.30
1110.00
11.83
* APPROXIMATE DIMENSIONS FOR DETAILING ONLY
The rounding off of decimal dimensions to fractions can lead to an accumulation of differences. (See A.I.S.C. Manual)
** For painting and sandblasting surface area (all around) square foot (Ft2) of length.

Split Tees
Please contact us.
Bearing Pile
Please contact us.
Sizes and products are for reference only. We do not carry or supply all sizes or items shown.
Please contact us to confirm product availability.