Trailer Running Gear
STOCK LIST
Axles (New Factory)
Straight
Drop
Idler
Electric
Springs
Hydraulic
Torsion Tube Axles
Hitch Balls
Hanger Kits
Jacks
Couplers (All Types)
Fenders
Hubs & Spindles
Wheels & Tires
Lights & Wire
Replacement Parts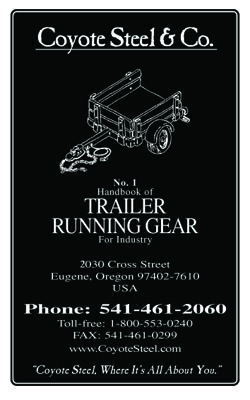 So you're planning to build
your own trailer or modify one.
This book will be helpful; it's a components and parts guide. The simple illustrations and text will take
you from towing systems, safety check, maintenance and towing hints onto components, running gear, suspension, fenders, lights and wire, hardware and more.
After reviewing the book start your design process. First contact your state's motor vehicles department and obtain a copy of your state's trailer rules and regulations. Then evaluate your towing vehicle's capability and any improvements which may be necessary. Next, decide on a hitch system capable of your towing objectives and gross load.
When designing your trailer, remember that your trailer's capacity and performance depends on your careful considerations, proper engineering and design concepts coupled with quality goods and craftsmanship. Yes, used is used, so don't cut corners as you may find it's just not cheaper! Don't underbuild; your trailer's capacity, safety and performance hinges on the weakest link in your trailer design chain- towing vehicle, towing system and your trailer.